Lincoln In Brief

Settled long before the American Revolution, Lincoln is a unique community with such a rural feel that it's easy to forget it's only 11 miles from Boston. The community,
population about 5200
, places a high value on public education, open space, diversity and community involvement. The town has a lot of conservation land, leaving very little room for development. This is one of the reasons homes hold their value well (low supply and high demand). Like many of the neighboring towns, Lincoln's schools are among the best in the state. It's a
great place for families
, but homes here are among the most expensive in Massachusetts.
Like its neighbors, Lincoln is New England postcard perfect and wears its history proudly with monuments to its American Revolutionary roots and beautiful historic homes. Lincoln has two distinct profiles—bucolic bedroom town on the south, and, on its north side, you'll find bustling Hanscom Air Force Base and civilian Hanscom Air Field, along with Minuteman National Park.
With many winding, rural roads, Lincoln isn't as much a town of neighborhoods as it is of views. With some of the highest elevations close to Boston, there are great views of the city skyline, as well as wildflower meadows and farms. There's quite a diversity of housing –from areas with pre-revolutionary antiques and farmhouses to iconic contemporary architecture and classic mid-century neighborhoods. There are also several over-55 communities in Lincoln, like The Groves at Lincoln, Minuteman Commons, and The Ryan Estate, as well as some great condo options like Farrar Pond Village, Lincoln Ridge, and Battle Road Farm.
Lincoln School Information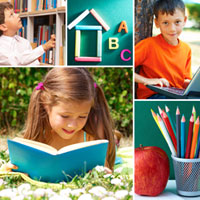 Lincoln has a long tradition of educational excellence and offers innovative, student-centered instruction with small class sizes. Parents and community members are encouraged to get involved in the PTA, the Lincoln School Foundation and school-based volunteer programs. In addition to being responsible for educating more than 600 town resident students in grades K-8, Lincoln also operates the primary and middle schools for another 600 kids at Hanscom Air Force Base through a contract with the federal government.
There are two preschools, one in Lincoln and one at Hanscom. The classrooms on the Lincoln campus provide full integration for students with special education needs.
At the elementary Level, Hanscom Primary School serves students in grades K-3, who are dependents of active duty military personnel residing on Hanscom, and the Lincoln School caters to kids K-4 at the town's main education campus. Military kids move on to Hanscom Middle School, also at the base. The teaching and administrative staff at Hanscom is especially sensitive to the stress that deployments, returning parents and life on base can be both exciting and stressful, and their goal is to make the transition to a new school as smooth as possible for all its families.
Located on the main campus, Lincoln School for grades 5-8 provides a top notch middle school education preparing students to enter the 5-year old, state-of-the art Lincoln Sudbury Regional High School (LSRHS) in Sudbury for grades 9-12. Lincoln kids make up less than 20 percent of the more than 1600-student population. The school is led by a Superintendent/Principal and is governed by a six-member school board with representatives from both Sudbury and Lincoln. It is structured using a "House" system where the four grades are divided into three houses, each run by a housemaster and offering many support staff. LSRHS students excel in statewide testing, as well as national placement exams such as the ACT. The Composite score for the ACT at LSRHS is 26.3.
LSRHS was also ranked Number 4 in Boston Magazine's "Best Public Schools for 2011."
Lincoln is also part of the Minuteman Regional Vocational Technical School jurisdiction, which includes 15 other Metrowest communities. This four-year public high school offers rigorous academics with relevant career and technical programs. One hundred percent of its 2010 graduates passed the MCAS requirements, and 25 percent of those graduates earned scholarships for their outstanding MCAS scores.
The Carroll School, a private day elementary and middle day school for students who've been diagnosed with learning disabilities in reading and writing is also in Lincoln.
Lincoln Commute Information


Aside from its natural beauty, Lincoln has a knock-out location only 11 miles from downtown Boston. It borders both I-95/Route 128 and one of the main east-west routes from Cambridge, Rte. 2. Lincoln's also only about 10 minutes from the Massachusetts Turnpike. The town's commuter rail station is in the heart of Lincoln's village center, and commuters can grab an express and be at Boston's North station in about 30 minutes. A stopping train gets you to Cambridge in 22 minutes and to Boston in less than 50. Yankee Lines provides a commuter bus service to Copley Square in Boston from nearby Concord.
Lincoln Market Stats



One of the most important aspects in buying or selling a home is being knowledgeable about the local sales market. At The Hollows Group we know our home towns inside and out and our goal is to help make you an expert, too.
Lincoln Culture History and the Arts

DeCordova Sculpture Park and Museum's 35-acre campus offers visitors a unique opportunity to experience contemporary art outdoors and in the galleries. The Sculpture Park hosts more than 60 works, most of which are very large, and visitors love wandering through them, picnicking and walking the trails that surround the park. Inside, the Museum features a slate of rotating exhibitions and innovative interpretive programming. DeCordova's School has adult and children's classes in fine arts, pottery, drawing and sculpture year round and hosts several camp sessions for kids and teens throughout the summer.
Run by the Massachusetts Audubon Society, Drumlin Farm Wildlife Sanctuary crowns one of Lincoln's beautiful rolling hills known as drumlins. Families can explore a real working farm and a wildlife sanctuary in visit. You may find yourselves gathering fresh eggs, making butter in the barn, discovering new herbs in the learning garden, taking a ride on the hay wagon or listening to a band while you picnic. Dig in deeper with Discover Drumlin activities, free with admission, or try the acclaimed farm and nature programs to learn even more about local nature lore. Drumlin offers day camp and internship opportunities in the summer.
The Codman Estate overlooks a farm and pleasure grounds, this country seat once known as "The Grange," was a powerful force in the lives of five generations of the Codman family. The grounds feature a hidden turn-of-the-century Italian garden with perennial beds, statuary, and a reflecting pool filled with water lilies, as well as a 1930s English cottage garden.
Next door at Codman Community Farms you'll find a living example of Lincoln's agricultural heritage, Codman is a place for children and adults to see animals, celebrate community and conservation, and learn about farming. The farm operates year-round. Bring the kids to meet the goats, chickens and donkeys, and volunteers are always welcome, whether you're interested in helping with the chores, collecting and cleaning eggs, planting, painting or fixing the coops.
Not far away you'll find a very different side of Lincoln at the Gropius House, built by Walter Gropius, founder of Bauhaus one of the most influential architecture and design schools of the 20th century. Built in 1938, the house was ultramodern and still stands the test of time with a contemporary architecture that is distinctly New England. Gropius described it as, "This fusion of the regional spirit with a contemporary approach to design."
Lincoln Recreation


Lincoln has a more than 1800 acres of protected land. Its open spaces — woodlands, fields and water — are at the very heart of the community. They provide uplifting vistas, contemplative moments, recreational opportunities, natural habitats and an important reminder of its agricultural heritage. There are also almost 70 miles of walking trails across a number of conservation areas, including Codman Farm Fields, Mount Misery, Baker Bridge Fields, Flint Fields, Silver Hill 4-H fields, Tanner's Brook and the Flint's Pond area.
Lincoln Restaurants


Like the small town it is, Lincoln's restaurant scene is tiny, too, but has everything you need to stay happily fed. AKA Bistro, Lincoln's signature fine dining restaurant, offers a Japanese and French menu inspired by the chef's French mom, as well as his love of sashimi. Local farms provide most of the fresh produce. With its sleek, modern décor and patio sculpture garden AKA (which means red in Japanese) was an instant hit when it opened its doors in 2010.
Just like Cheers, Whistle Stop Gourmet really is the place where everybody knows your name. It's in the heart of the village at Lincoln Station, and everyone in town stops by for their fix of coffee, pastry, sandwiches and neighborly hellos. Sandwiches are named after local trains and landmarks—the Boxcar, which is fresh roast beef with Vidalia onion relish gets my vote. Country Pizza, just down the road, offers another great casual dining option with thin, crispy crust pizza, fresh salads, sandwiches and burgers.
Lincoln Shopping


Given its rural character, shopping isn't a big part of Lincoln life. You'll find the necessities in the village center–The Whistle Stop Gourmet Coffee Shop, the post office and the eclectic Something Special. Calling itself a contemporary general store, shoppers can find a little bit of everything from women's clothes and accessories to toys, kitchen items, soaps, candles, candy, jams, stationery, cards, paper napkins, pottery, even Simon Pearce glassware.
In fact, Lincoln has eclectic pretty well covered. Its two other retail outlets both have unique offerings of their own. The Store at Decordova features a totally wacky and wonderful selection of stocking-stuffer type gifts, apparel, small art pieces, books and jewelry where you can't help but find that perfect one-of-kind gift.
Lincoln's only grocery store, Donelans remains closed after sustaining major roof damage from a storm last winter, and residents have to shop for groceries in Waltham, Wayland or Lexington until the reopening in June 2012. Unless, of course, its growing season, and they stop at one of several local farms. In additional to its farm stand in Lincoln, Blue Heron Organic Farm provides vegetables to more than 10 of the area's finest restaurants and local businesses, including Hamersley's Bistro, Rialto, Nourish in Boston. Codman Community Farms' store sells eggs, milk and cheese, along with beef, lamb, pork and goat from their own animals. And Lindentree Farm, which is certified organic, offers shares in its CSA, where you can subscribe for the season for a portion of whatever's fresh picked each week.
Lincoln Services

Emerson Hospital anchors Concord's strong medical community. In addition to full spectrum medical care and the doctors who provide it, Emerson also features clinical collaborations with many of Boston's major hospitals including Mass General, Brigham and Women's and Tufts.