Concord In Brief


Concord is the quintessential New England small town with a vibrant downtown and views like a Currier and Ives print everywhere you look. One of the cradles of American history, Concord has been in the spotlight since the famous Revolutionary War battle that bears its name. Great writers like Louisa May Alcott, Henry David Thoreau, Ralph Waldo Emerson and Nathaniel Hawthorne all called Concord home, and their homes are all still here and open to the public as museums—that is except Thoreau's. But you can see a replica of the one-room cabin he lived in while writing Walden next to beautiful Walden Pond, which is now a state park.
Just 20 miles northwest of Boston, Concord offers an easy in-town commute by road and rail, but also features its own range of restaurants, theatre, museums and shopping without having to leave this beautiful town. A Word About West Concord West Concord, which is about 3 miles west of Concord center has no outstanding natural or historic sites or monuments, which is what makes it nice, according to Tom Brosnahan of New England Travel Planner. "it's "Concord-as-real-life," Brosnahan explains, "with pleasant family neighborhoods, a compact commercial district, a number of good restaurants, light meal stops, bakeries, specialty food shops, and a different mood from that of the lofty historical and literary significance of Concord center." West Concord has also become a center for a growing wholistic health and wellness community with offerings in wholistic nutrition, yoga, acupuncture, massage, hypnotherapy and more. With Debra's Natural Gourmet at it's heart… West Concord also has Concord's other Commuter Rail train station. The train ride between West Concord station and Concord Center depot takes six minutes.
Concord School Information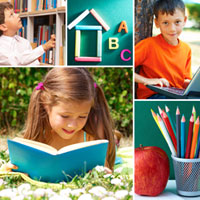 The Town of Concord has two school districts: Concord Public Schools and the Concord-Carlisle Regional High School. The Concord Public Schools include three elementary schools—Alcott, Thoreau, and Willard–the Integrated Preschool Program and Concord Middle School, which features two campuses, both located in West. Concord. Alcott was rebuilt in 2004, Thoreau opened its brand new building in 2006, and Willard opened its new completely green campus in 2009. Concord's elementary schools consistently place in the top 100 of the close to 1,000 public elementary schools state-wide in the Massachusetts Comprehensive Assessment System (MCAS) rankings in both Math and Reading. Concord-Carlisle Regional High School, less than half a mile from world-famous Walden Pond , was founded in 1954 shares students, facilities and budget with the next door town of Carlisle. Concord-Carlisle High School's MCAS scores put them solidly within the top 50 in both subjects among the approx. 350 high schools ranked. CCHS was also ranked Number 2 in Boston Magazine's "Best Public Schools for 2011." Concord is also home to Minuteman Regional Vocational Technical High School, whose jurisdiction includes 15 other Metrowest communities. This four-year public high school offers rigorous academics with relevant career and technical programs. In addition to traditional academic and vocational fields, Minuteman students can study a range of career-oriented subjects including Environmental Science, Biotechnology, Pre-Engineering and Robotics. Minuteman debuted the first State-approved high school pre-engineering program eight years ago. Private Schools In the same way greater Boston is home to many of the finest colleges and universities in New England, Concord offers some of the best private educational opportunities in the state, including Concord Academy, The Fenn School, The Middlesex School, and Nashoba Brooks School.
Concord Commute Information


Concord is only 20 miles northwest of Boston and is easily accessed by Rte. 2, one of the major east-west highways in the area. Concord commuters can reach Boston's inner ring road Rte. 95 in 5-10 minutes, as well as the Rte. 495, the outer ring road in about ten. Both roads lead south to Cape Cod and north to New Hampshire. With stops in West Concord and Concord Center, the MBTA Fitchburg/South Acton line put Cambridge and Boston's North Station within easy reach in less than 45 minutes on most routes.
Concord Market Stats



One of the most important aspects of buying or selling a home is being knowledgeable about the local sales market. At The Hollows Group we know our hometowns inside and out and our goal is to help make you an expert, too.
Concord Culture History and the Arts

Nobody does history like Concord. It lives and breathes here, especially in Minuteman National Historical Park on the "Battle Road" that links Concord and Lexington, the same route Paul Revere famously rode before his capture by the British; at Old North Bridge, the site of the first American victory in Revolutionary War; at Orchard House and The Wayside, homes of the Alcott and Hawthorne families. At the Concord Museum, the collections of decorative arts and domestic artifacts were either owned by Concord-area residents or made by Concord-area artisans and show us how we once lived. And at Author's Ridge in Sleepy Hollow Cemetery you'll find the resting places of Ralph Waldo Emerson, Henry David Thoreau, Louisa May Alcott, Daniel Chester French. If art's your passion, Concord offers plenty of opportunities to get creative. Emerson Umbrella Community for the Arts offers Classes and workshops for children and adults in four large teaching studios, studio space for more than 50 artists and performances from all disciplines in its 435-seat theater. Concord Youth Theater offers classes and workshops for actors of all ages. CYT performers entertain thousands of families every season with bold and innovative family theatre, providing many children with their first introduction to live theatre. Sudbury native Chris Evans, best known for his movie role as Captain America, is a grad!
Concord Recreation



Concord is definitely not a place for sitting still. Almost everybody seems to bike, walk, swim, cross-country ski, skate, kayak or canoe. Or maybe just walk the dog on one of the many off-leash trails you'll find around town. Check out 1200-acre Estabrook Woods the largest undeveloped woodland within thirty miles of Boston or break out your binoculars with your fellow birders at Great Meadows National Wildlife Refuge, which stretches along 12 miles of the Concord and Sudbury rivers. Don't miss the chance to swim or hike at Walden Pond, setting of Henry David Thoreau's iconic wildlife memoir. If you have your own canoe, you can put it in the water from a landing just west of the town square or in several neighborhoods like Conantum or Riverdale. If not, the quirky and much loved South Bridge Boat House will rent you a canoe or kayak by the hour or the day. It's a great starting point to gawk at some of our stately homes, fish or picnic along the beautiful banks and islands. Thanks to the Concord Recreation Department, 2,600 Concord and Carlisle residents play in organized outdoor recreation and sports programs including youth soccer, travel soccer, softball, Little League baseball, summer baseball, youth lacrosse, youth flag football, Pop Warner football, men's and women's adult soccer. The department also offers year-round arts, crafts and science programming for kids and adults, and maintains the town's outdoor pool. As well as being home to many small, private fitness and yoga studios, Concord has a 35,000 square-foot town-run recreation complex at the Beede Swim & Fitness Center, the residents' number one spot for swimming, diving, running, lifting, playing, stretching, rowing, strengthening, rehabbing and just rejuvenating. In West Concord, check out the private Thoreau Club for year-round swimming, exercise, or indoor tennis. After your workout, head up to the full-service Spa at Thoreau to relax. Get a massage, manicure, or pedicure and they'll even give you complementary childcare in the Club's Kids Place!
Concord Restaurants


Concord may not be the restaurant hot spots that some of its neighbors are, but it offers a respectable range of options for any taste. Because he's already done it so comprehensively and well on his own site, our friend Tom Brosnahan at the New England Travel Planner (©NewEnglandTravelPlanner.com. Used by permission.) has graciously let us use his guide to good eats in Concord.
The doyenne of Concord eateries,
the Colonial Inn
has several places to dine, including the more formal main dining room, the less-formal tavern and, most delightfully, the informal front porch (in summer; best for lunch).
Helen's
This simple but popular combination short-order restaurant and ice cream shop on Main Street serves breakfast lunch, supper and ice cream in informal surroundings at budget prices.
Main Streets Market & Café

In the very center of Concord's boutiques, the very informal Main Streets does a brisk business for breakfast and lunch, but calms down for dinner with beer, wine, and live entertainment. Seating is on stools at the counter, indoor and outdoor-deck tables.
The Cheese Shop of Concord
A longstanding favorite gourmet shop with an amazing selection, the Cheese Shop also sells soups, salads and fresh-cut sandwiches Julia Child used to recommend this place!
Sally Ann Food Shop
Sally Ann sells soups, salads, sandwiches and lots of cakes and bakery items.
Walden Grill
This restaurant-and-tavern located in Concord's first fire station (circa 1903) has a full dining room menu as well as its popular tavern/lounge.
Whether you're after a cup of coffee from Starbucks or Dunkin' Donuts, a Chinese buffet lunch, a slice of pizza, a huge ice cream cone or some French provincial cuisine, the Concord Depot neighborhood a good place to look. A few of the notables include:
Country Kitchen
A tiny yellow cottage serving soups (try the clam chowder), salads and sandwiches (turkey breast, roasted fresh daily, is the best).
Concord Provisions

This upscale grocery store at sells sandwiches, salads, cheeses, breads, crackers and lots of wines—everything you'd need for a fine picnic.
La Provence

Owned and operated by a French-born couple, this café-épicerie is popular for coffee, breakfast, lunch, snacks and supper, taken indoors, outdoors, or take-away.
Farfalle Italian Market & Café

Farfalle serves breakfast, light lunches and suppers, a great range of household and hard-to-find fresh and packaged Italian foods, and has a good selection of wines.
80 Thoreau

80 Thoreau is an upscale restaurant serving New American Cuisine upstairs in the Concord Depot building. Fine cuisine, healthy (ie, not huge) portions, fairly lofty prices (especially for wine), attentive service, a good dining experience. The bar/lounge scene in a separate space is popular as well.
Bedford Farms Ice Cream
This little cabin of a place sells gigantic ice cream cones and dishes.
West Concord also has a selection of good places to dine. The stand outs include:
Club Car Café
In the former West Concord Depot train station building you'll find an old-time atmosphere for breakfast or lunch.
Debra's Natural Gourmet
A natural foods grocery store extraordinaire and deli counter and the heartbeat of the area's growing wellness focus.
Nashoba Brook Bakery

A bakery-café right beside the brook, Nashoba bakes the best bread in Concord and makes great, great sandwiches from it. You can also get breakfast and special-treat pastries, soups and other light meals. Sit indoors in the light, high-ceilinged former factory building, or outside next to the water.
Concord Teacakes

This locally-famous bakery-café has exquisite cakes, pastries and other bakery treats, as well as coffee, teas, sandwiches and light meals.
Vincenzo's Ristorante

Chic Italian trattoria with good, trendy (but not cheap) menu.
Concord Shopping


Concord is a boutique shopper's dream. You can find distinctive jewelry at Goldsmiths 3 and noa, designer shoes at Viola and Footstock, toys at Dabblers, Barefoot Books, and the iconic Concord Toy Shop, and some of the best fashion options outside of Boston at spots like Tess and Carlos, French Lessons, Sara Campbell, Irresistibles, and Perceptions. From crisp eclectic home designs at Comina and Nesting to the multitudes of antique stores to browse, it's all here. On the more practical side, you can do your everyday shopping for hardware, books, sporting goods in Concord, too. Arguably the best of them all is the West Concord Five & Ten, the store that has everything you need and don't know where to find from sewing notions to "penny" candy, construction paper to goldfish bowls —really, everything. If you can't find what you need in Concord, the Burlington Mall, anchored by Nordstrom, is only a short drive away. Neighboring Bedford offers discount retailers like Marshalls, T.J. Maxx and Home Goods and chain grocery stores Whole Foods and Stop & Shop, as well.
Concord Services

Emerson Hospital anchors Concord's strong medical community. In addition to full spectrum medical care and the doctors who provide it, Emerson also features clinical collaborations with many of Boston's major hospitals including Mass General, Brigham and Women's and Tufts.