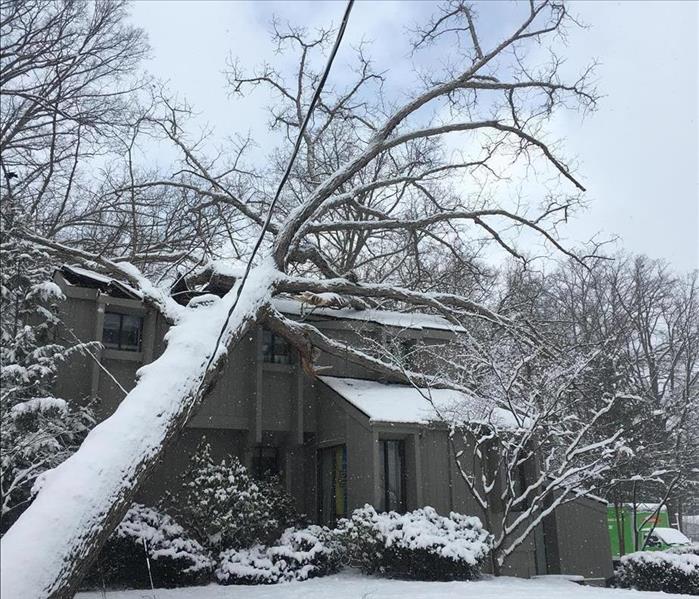 March came in like a lion, remained a lion for 31 days, and then tag-teamed April to throw us a few more snowfalls.
We New Englanders are hardly babes in the woods when it comes to winter storms, but these have been two nasty months. We thought it an appropriate time to offer advice from experts on how to handle the aftermath.
Easy on the Cleanup
Your first instinct is probably to start tidying up and making repairs. The problem is, this will make things difficult for your insurance adjuster.
Take lots of photos

of the damage as soon as possible.

Document, document, document.

Don't remove anything that won't

contribute more damage.

Stabilize serious problems

like leaking roofs.

The tree that's punched into the attic is a big deal.

Know what your insurance company covers

before

you hire a repair professional.
Once the Insurance Adjuster Arrives
When the adjuster lands at your house, be kind. Remember, they're probably severely overworked. They want you to get back to normal as soon as possible, but they can only do so much. It's no fun to suffer a storm gladly, but patience is a virtue.
They'll take a look at the damage, possibly bringing in a pro to do a more detailed evaluation. Then you'll wait some more. Show them everything you have while they're at your doorstep, from the photos you took to the measures you had to take to stabilize the damage. The more complete the details, the better. Be sure to get a card, as you will likely be communicating with the adjuster for a while.
What About Next Time?
Turning your focus to the next destructive storm (please, not this year!), here are some potential issues to discuss with your insurer:
Sewage backups.

Your basic homeowner's policy probably won't cover a sewage backup, even if it's caused by surging storm drain water. Not only is this about the worst thing to clean up ever, it can be costly if you have a finished basement.

Flooding.

Most flood insurance policies are issued through FEMA via the National Flood Insurance Program. The cost is relatively minimal, but because so many people assume they're covered against floods under their homeowner's policy, they don't bother to look into this at all.

Wind damage.

We're not exactly in Tornado Alley here—but for that reason, many of us are woefully underinsured in this area. Make sure you've got wind damage coverage that will pay out enough if you ever use it.

Vehicle damage.

If you're like us, you have at least a few neighbors whose cars got creamed by trees in March. This coverage falls under (pun!) your auto insurance policy.